The Canadian Valley District of the Boy Scouts of America
The Canadian Valley District of the Boy Scouts of America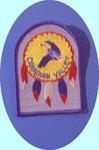 The Blue Goose is the Symbol of Canadian Valley
Key 3
District Executive - Jared Mock
Dictrict Chairman - Jim Marshall
District Commisioner - Norvel Garlington
District Staff 2010
Vice Chair Administration -
Vice Chair Program -
Advancement Chair -
Finance Chair -
Training Chair -
Activities Chair -
Camp Promotions -
Public Relations -
Roundtable Commissioner -
Popcorn Kernal -
OA Advisor -
Webmaster -
Email your Ideas!
Our Web Site is only as good as those who contribute. Click on the link below to send articles, pictures or other information that you would like to see on our web site.
Get involved in Scouting
If you need help or want to send questions about Canadian Valley and any Scouting Opportunities, clink on the link below to contact our
District Executive Jared Mock.